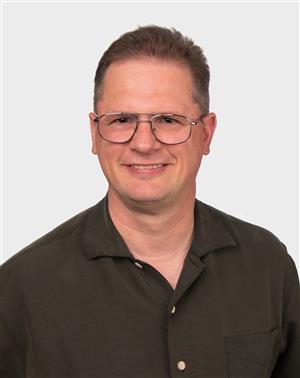 Education
University of Illinois Materials Science and Engineering Ph.D. (2001)
Pennsylvania State University Engineering Science B.S. (1992)
Academic Positions
1998 Silicon Research Consortium Engineering Intern, Motorola
1992 – 2002 Graduate Research Assistant, Materials Science and Engineering, University of Illinois, Urbana, IL
2002 – 2004 Post-doctoral Researcher/Visiting Lecturer, Materials Science and Engineering, University of Illinois, Urbana, IL
2010 – 2011 and 2015 Interim Director MRL Central Research Facilities, Materials Research Laboratory, University of Illinois, Urbana, IL
2004 – 2012 Research Scientist, Materials Research Laboratory, University of Illinois, Urbana, IL
2012 – present Senior Research Scientist, Materials Research Laboratory, University of Illinois, Urbana, IL
Research Statement
General materials characterization and device processing.
Thin film growth.
Surface analysis.
X-ray scattering methods.

My research interests involve the creation and characterization of hard materials, including semiconductor and superconductor thin films, lithium ion battery materials, and hard materials for wear analysis. My previous research experience has involved the growth of epitaxial Si1-xGex/Si thin films grown by gas-source molecular beam epitaxy and their characterization by atomic force microscopy, x-ray diffraction, and x-ray reflectivity. I also have significant experience in the analysis of materials by secondary ion mass spectrometry, which includes the analysis of samples ranging from biological cells, to surface coatings used to decrease friction on steel, to dopant depth profiles in semiconductor samples. I am particularly interested in projects dealing with the effect of surface morphology on other material properties.
Selected Articles in Journals
B.M. Howe, E. Sammann, J.G. Wen, T. Spila, J.E. Greene, L. Hultman, I. Petrov, "Real-time control of AlN incorporation in epitaxial Hf1-xAlxN using high-flux, low-energy (10-40 eV) ion bombardment during reactive magnetron sputter deposition from a Hf0.7Al0.3 alloy target." Acta Materialia 59, 421-428 (2011).
K.A. Bratland, T. Spila, D.G. Cahill, J.E. Greene, and P. Desjardins, "Continuum model of surface roughening and epitaxial breakdown during low-temperature Ge(001) molecular beam epitaxy." J. Appl. Phys. 109, 063513 (2011).
M. Bettge, Y. Li, B. Sankaran, N.D. Rago, T. Spila, R.T. Haasch, I. Petrov, D.P. Abraham, "Improving highcapacity Li1.2Ni0.15Mn0.55Co0.1O2-based lithium-ion cells by modifying the positive electrode with alumina." J. Power Sources 233, 346-357 (2013).
J.S. Sadhu, H. Tian, T. Spila, J. Kim, B. Azeredo, P. Ferreira, and S. Sinha, "Controllable doping and wraparound contacts to electrolessly etched silicon nanowire arrays." Nanotechnology 25, 375701 (2014).
J. Chang, R.T. Haasch, J. Kim, T. Spila, P.V. Braun, A.A. Gewirth, and R.G. Nuzzo, "Synergetic role of Li+ during Mg electrodeposition/dissolution in borohydride diglyme electrolyte solution: voltammetric stripping behaviors on a Pt microelectrode indicative of Mg−Li alloying and facilitated dissolution." ACS Appl. Mater. Interfaces 7, 2494 (2015).