Equipment coming soon to MRL
ThermoFisher Axia ChemiSEM
The Axia ChemiSEM is a new generation of scanning electron microscope, designed to provide the most efficient SEM-EDS user experience possible. Low-vacuum mode will provide several advantages when dealing with non-conductive samples; not only does it enable charge-free imaging, but it also allows an increase in the material contrast and the use of higher beam currents to perform chemical analyses.
Some of the instrument features are:
Thermal emission W gun.
Alignment-free operation.
Live Quantitative Elemental Mapping: A single scan generator controls both SE/BSE and X-ray acquisition, creating perfectly aligned EDS and imagery data.
Thermo Scientific Nav-Cam™ Navigation Camera.
Accelerating voltage range: 200 V – 30 kV.
Magnification: 5 to 1,000,000×.
Integrated current measurement: up to 2 μA, continuously adjustable beam current range.
Detectors:

TrueSight X EDS detector. Solid angle 13 mSr, resolution 129 eV
ETD: Everhart-Thornley SE detector
Low-vacuum SE detector (LVD), standard on LoVac model, with adjustable pressure up to 150 Pa
Motorized retractable backscattered electron detector that offers two different segments for more tunable contrast

Set of 3 apertures 200 um, 3 mm diameter.
Electron beam resolution:

High-vacuum imaging

3.0 nm @ 30 kV (SE)
8.0 nm @ 3 kV (SE)

Low-vacuum imaging

3.0 nm @ 30 kV (SE)
4.0 nm @ 30 kV (BSE)
10 nm @ 3 kV (SE)

280 mm inner width chamber.
Stage:
XY: 120x120 mm Eucentric Stage
Tilt: -15 to +90 degrees
Rotation: n x 360°
With ZTR axes removed:

Max. sample height: 128 mm
Max. sample weight: 10 kg
NT7 Holder: hosts up to 7 standard stubs (ø 12 mm), and does not require tools to mount a sample.
CCD IR camera for viewing sample in chamber.
24'' Widescreen LCD Monitor.
Thermo Scientific Maps™ Software.
Manual user interface.
Remote control / imaging.
Workstation with Windows 10.
Expected installation: Fall 2021, in the MRL Supercon 0018 SEM lab.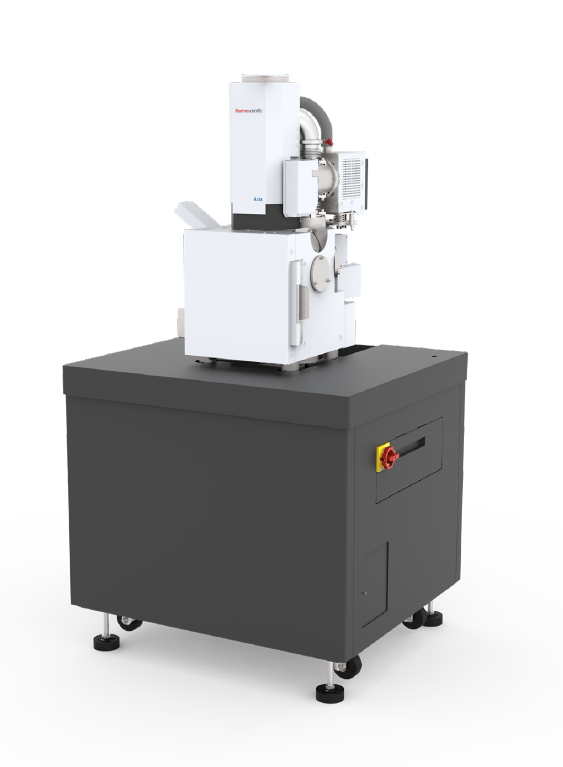 __________________________________________________________________________________________
ThermoFisher Scientific Talos™ F200X G2 Scanning Transmission Electron Microscope (S/TEM)
The Talos F200X G2 is a 200 kV FEG Scanning Transmission Electron Microscope (S/TEM) that combines outstanding quality in high-resolution STEM and TEM imaging with high throughput EDS signal detection and 3D chemical characterization with compositional mapping. It is designed for fast, precise and quantitative characterization of nano-materials. It accelerates nano-analysis of materials based on higher data quality, faster acquisition, and simplified and automated operation. The system's Constant-Power™ X-TWIN lens delivers outstanding optical performance to help ensure an optimal balance of contrast and resolution.
The microscope comes with numerous advanced functions and new features:
X-FEG high-brightness electron source for high brightness, high temporal and spatial coherence.
Constant-Power Objective lens control stabilizes the optics while switching between various optical modes.
Lorentz Lens enabling imaging magnetic structures in field-free conditions.
The EMPAD (Electron Microscope Pixelated Array Detector) pixelated detector for acquiring the diffraction pattern in each pixel of a STEM image, with the speed of up to 1100 fps.
4k x 4k Ceta™ 16M camera with Speed Enhancement provides fast frame rate imaging up to 40 fps at full frames, and 300 FPS for reduced frame size.
The 4D STEM software package for the Ceta™ 16M camera, synchronizes the STEM spot movement with the readout of the camera.
Super-X SDD EDS detection system with 4 large area crystals, and large EDS collection solid angle of 0.7 steradians for high count rate and high-resolution EDS analysis.
Segmented Panther STEM detector, along with HAADF detector, provides access to a large range of BF and DF STEM imaging techniques with 4k x 4k STEM image acquisition.
TEM Tomography, STEM Tomography, and EDS Tomography data acquisition software packages provide capability to obtain 3D structure and chemical information.
Inspect3D Xpress hardware and software for carrying out alignment of tomography data and subsequent ultra-fast tomographic reconstruction
Maps 3 S/TEM image acquisition and processing software for automatically acquiring images from a large area by shifting the CompuStage and stitching all the images into a final image.
Velox™ software for multi-signal simultaneous acquisition guides the typical workflow of STEM imaging, EDS acquisition and analysis, and special applications: DPC / iDPC (Differential Phase Contrast / Integrated DPC), and drift-corrected frame imaging (DCFI).
Align Genie fully automated software for aligning and (fine-) tuning the optics and column alignments in TEM mode.
AutoSTEM automated alignment software for the correction of focus and astigmatism correction in STEM mode up to 1 Mx magnification.
Computerized 5-axes Piezo enhanced stage ensures drift-free imaging with high sensitivity and precise sample navigation.
Fully computer controlled and motorized apertures whose alignments and positions are automatically recalled.
A new high speed, high dynamic range, damage insensitive digital Search and View Camera SmartCam replacing conventional fluorescent screen.
Instrument enclosure that moderates the impact from the air pressure waves, air flows, and fine temperature variations in the TEM room.
Probe current and STEM detector collection angles indicated in real time in TEM user interface.
The microscope will be installed with column alignments at 80, 100 and 200 kV.
Specifications:
HRTEM line resolution: 0.10 nm
HRSTEM: 0.16 nm
Brightness of X-FEG: 1.8 × 109 A /cm2 srad (@200kV)
Super-X EDS system: 4 SDD symmetric design, windowless, shutter-protected
Energy resolution: ≤136 eV for Mn-Kα and 10 kcps (output)
Expected installation: Fall 2021, in the MRL B70C TEM lab.
__________________________________________________________________________________________