Gatan Precision Etching Coating System (PECS)
The Model 685.O precision etching coating system (PECS™) II is a table top broad beam argon milling tool for polishing as well as coating samples. It is suitable for polishing both plane view and cross sectional samples and generating damage free polished surfaces.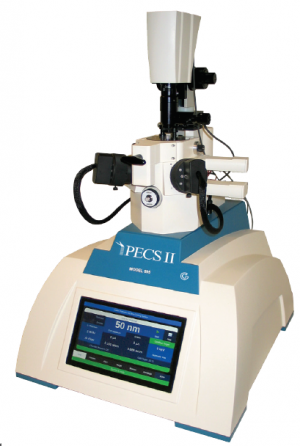 It can be used for producing high quality samples for imaging by scanning electron microscopy (SEM) and optical microscopy, and for analysis by using energy dispersive x-ray spectroscopy (EDS), electron backscatter diffraction (EBSD), cathodoluminescence (CL), electron-beam induced current (EBIC) or other analytical techniques.
The capability of milling and coating performed on the same sample without interruption of the vacuum makes it ideal for applications where exposure to air of milled surface is undesirable. It also has a temperature controlled liquid nitrogen cooling stage, which helps prevent sample melting or structural changes caused by heat.
An integrated 10-inch touch screen and computer control makes it user friendly and easy to program. The optical and digital zoom microscope monitors the polishing process in real-time and enables recording the process in DigitalMicrograph® software for review, analysis, and reproducibility.
Highlighted features:
Automated argon ion polishing system.
Low etch voltages ~ 100 V for damage free preparation of sample surfaces.
Damage-free surfaces for SEM, EBSD and optical applications.
Integrated coating capabilities (C, Cr, Pt and Al targets available)
Polish, etch or coat samples with a single pump down
Samples up to 32 mm in diameter (typical surface milling covers up to ~ 1 mm)
In-situ monitoring and recording of polishing process
Touch screen user interface for operation
Location

B59 MRL

Related Research Techniques
Related Research Cores
Contact
Senior Research Scientist