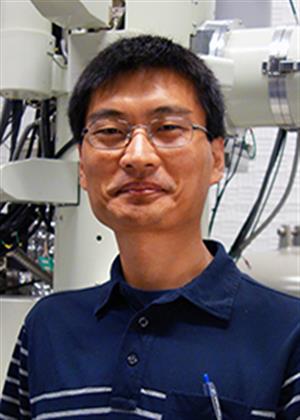 Education
Chinese Academy of Sciences, Materials Physics, Ph.D. (2004)
Nanjing University of Science and Technology, Materials Science, Sc.B (1998)
Biography
Transmission Electron microscopy: Pushing limits of Imaging, Diffraction, and Spectroscopy techniques
Atomic-to-micro scale structural and chemical underpinnings of materials properties
Materials structure and function design by physical metallurgical principles and their characterization
Nanocomposite thin film: controlled growth via sputtering, structure and properties design
Nano-sized structures and entities: atomic structure, chemistry, stability, mechanics, and catalytic aspects
Materials microstructural response under extreme pressure, temperature, irradiation, and strain rates
In-situ TEM/SEM dynamic characterization: nano-mechanical, environmental, and temperature effects
I have near two decades of experiences in materials research by applying Transmission Electron Microscopy, Spectroscopy, and Diffraction techniques to probing defects and interfaces in materials at micro- atomic and electronic structure levels, and linking them to the bulk properties. I also conduct in-situ characterization and test of materials in TEMs. I have been involved in multidisciplinary research projects covering materials systems ranging from metals, alloys, ceramics, to semiconductors, from the bulk, to thin films and nanostructures (wires, tubes, particles). My previous research projects included the structure evolution of alpha-Ti alloys under cyclic straining and the effect of hydrogen and hydrides therein; the nanomechanical behavior of nano-sized ceramic structures (ZnO, Si) and amorphous alloys; design and fabrication of multilayered diamond-like-carbon based nanocomposite films; materials behavior under extreme pressures and strain rates for defense applications (fcc Al alloys, bcc Ta alloys, SiC, AlN, B6O ceramics). I also seek structural solution for tailoring the transport properties of semiconductors for energy applications, e.g., the chalcogenide thermoelectric systems (Pb-S-Te, Pb-Sr-S, PbSe etc).
I have published >40 original research papers on leading research journals in societies of Materials, Physics, Chemistry and Metallurgy. The work published has been cited >1500 times.
Academic Positions
2020 - Present, Senior Research Scientist, Materials Research Laboratory, University of Illinois at Urbana Champaign, Urbana, IL
2014 - 2020, Research Scientist, Materials Research Laboratory, University of Illinois at Urbana Champaign, Urbana, IL
2013 - 2014, Assistant Research Scientist, Central Microscopy Research Facility and Molecular Beam Epitaxy Facility, University of Iowa, Iowa City, IA
2012 – 2013, Senior Research Associate, Northwestern University Atomic and Nanoscale Characterization Experimental Center (NUANCE), Northwestern University (NU), Evanston, IL
2010 – 2012, Postdoctoral Research Fellow, Department of Mechanical Engineering, and Hopkins Extreme Materials Institute (HEMI), Johns Hopkins University, Baltimore, MD
2007 – 2009, Research Fellow, Netherlands Materials Innovation Institute (M2i), and Department of Applied Physics, University of Groningen (RuG), The Netherlands
2004 – 2006, Scientist, National Center of Electron Microscopy-Beijing, Tsinghua University, Beijing
Research Interests
Transmission and Scanning Transmission Electron Microscopy
In-situ and Dynamic Transmission Electron Microscopy
Instrumentation and Development in Electron Microscopy Techniques
My research is focusing on structure engineering and characterization of functional materials of superb properties. I use conventional and modern transmission and scanning transmission electron microscopy and spectroscopy techniques as a tool for understanding structure origins of materials behaviors. My areas of interest include: General transmission electron microscopy for structural characterization from micro- to atomic scale; Monochromated and aberration-corrected electron microscopy and spectroscopy; In-situ characterization: nano-mechanical, temperature effects, and environments; Research and development of electron microscopy techniques and in-situ techniques; Atomic-to-micro scale structural and chemical origins of materials properties; Materials behavior under extreme pressure, temperature, irradiation, and strain effects; Materials structure and function design by physical metallurgical principles; Thin film deposition, growth mechanism and structural control.
Selected Articles in Journals
Souza J., Claudino C., Kuznetsova M., Rodrigues B., Chen C., Wang Z., Sardela M. "Facile one-pot microwave-assisted synthesis of tungsten-doped BiVO4/WO3 heterojunctions with enhanced photocatalytic activity", Materials Research Bulletin, 125: 110783. (2020)
Jackson, MA; Price, NPJ; Blackburn, JA; Peterson, SC; Kenarc, JA; Haasch, RT; Chen, CQ. 2. Partial hydrodeoxygenation of corn cob hydrolysate over palladium catalysts to produce 1-hydroxy-2-pentanone. Applied Catalysis A: General, 577 (5) 52-61 (2019)
Emigh, MG; McAuliffe, RD; Chen, CQ; Mabon, JC; Weihs, T; Hemker, KJ; Shoemaker, DP; Krogstad, J. Influence of a nanotwinned, nanocrystalline microstructure on aging of a Ni-25Mo-8Cr superalloy. Acta Materialia, 156, 411-419 (2018)
Liu, R; Schaller, R; Chen, CQ; and Bayram, C. High Internal Quantum Efficiency Ultraviolet Emission from Phase-Transition Cubic GaN Integrated on Nanopatterned Si(100). ACS Photonics, 5(3), 955-963 (2018)
J.N. Florando, B.S. EI-Dasher, C.Q. Chen, D.C. Swift, N.R. Barton, J.M. McNaney, K.T. Ramesh, K.J. Hemker, M. Kumar. Effect of strain rate and dislocation density on the twinning behavior in tantalum. AIP Advances, 6, 045120 (2016)
Y. Lee, S. Lo, C.Q. Chen, H. Sun, D.Y. Chung, C. Uher, V.P. Dravid, M.G. Kanatzidis. Contrasting role of antimony and bismuth dopants on the thermoelectric performance of lead selenide. Nature Communications, 5, 3640, (2014)
S.Q. Hao, L.D. Zhao, C.Q. Chen, V.P. Dravid, M.G. Kanatzidis, and C. Wolverton. Theoretical prediction and experimental confirmation of unusual ternary ordered semiconductor compounds in Pb-Sr-S System. Journal of American Chemical Society, 136 (4), 1628-1635 (2014)
C.Q. Chen, J. N Florando, M. Kumar, K.T. Ramesh, K. J. Hemker. Incipient deformation twinning in dynamically sheared bcc Tantalum. Acta Materialia, 69:114-125 (2014)
X.Y. Zhou, G.W. Wang, L.J. Guo, H. Chi, G.Y. Wang, Q.F. Zhang, C.Q. Chen, T. Thompson, J. Sakamoto, V. P. Dravid, G.Z. Cao, C. Uher. Hierarchically structured TiO2 for Ba-filled skutterudite with enhanced thermoelectric performance. Journal of Materials Chemistry A, 2(48), 20629-20635 (2014)
C.Q. Chen, G. Hu, J. N. Florando, M. Kumar, K.T. Ramesh, K. J. Hemker. Interplay of dislocation slip and deformation twinning in tantalum at high strain rates. Scripta Materialia 65 (10), 709-102, (2013)
C. L. Williams, C. Q. Chen, K. T. Ramesh, D. P. Dandekar. The Effects of Cold Rolling on the Spall Response of 1100 Aluminum". Journal of Applied Physics 114, 093502 (2013)
G. L. Hu, C. Q. Chen, K. T. Ramesh, J. W. MaCauley. The dynamic deformation and fracture mechanisms of sintered aluminum nitride. Acta Materialia. 66, 3480-3490 (2012)
C.Q. Chen, Y. Pei, J. Th. M. De Hosson. Apparently homogeneous yet intrinsically intermittent flow of taper-free metallic glass nanopillars. Scripta Materialia. 67, 947–950 (2012)
G. L. Hu, C. Q. Chen, K. T. Ramesh, J. W. MaCauley. Dynamic multiaxial response of a hot-pressed aluminum nitride. Scripta Materialia. 66 (8) 527-530, (2012).
O. Kuzmin, Y. Pei, C.Q. Chen, J. Th. M. De Hosson. Intrinsic and extrinsic size effects in the deformation of metallic glass nanopillars. Acta Materialia. 60, 889–898 (2012)
Chen, C. Q.; Pei, Y. T.; Kuzmin, O.; et al. Intrinsic size effects in the mechanical response of taper-free nanopillars of metallic glass. Physical Review B 83 (18) 180201(R) (2011)
Shaha, KP; Pei, YT; Chen, CQ; et al. Pulsed DC sputtered DLC based nanocomposite films: controlling growth dynamics, microstructure and frictional properties. Materials Technology 26 (1), 15-19 (2011)
Chen, CQ; Pei, YT; De Hosson, JTM. A statistical physics consideration about the strength of small size metallic glass pillars. Journal of Physics: Conf Series, 15th International Conference on the Strength of Materials (Icsma-15) 240, 012156 (2010)
Pei, YT; Turkin, AA; Chen, CQ; et al. Dynamic smoothing of nanocomposite films. Applied Physics Letters 96 (15) 151910 (2010)
Chen, CQ; Pei, YT; De Hosson, JTM. Effects of size on the mechanical response of metallic glasses investigated through in situ TEM bending and compression experiments. Acta Materialia 58 (1) 189-200 (2010)
Turkin, AA; Pei, YT; Shaha, KP; et al. On the evolution of film roughness during magnetron sputtering deposition. Journal of Applied Physics 108 (9) 094330 (2010)
Shaha, KP; Pei, YT; Chen, CQ; et al. Synthesis of ultra-smooth and ultra-low friction DLC based nanocomposite films on rough substrates. Thin Solid Films 519 (5) 1618-1622 (2010)
Chen, CQ; Pei, YT; Shaha, KP; et al. Tunable self-organization of nanocomposite multilayers. Applied Physics Letters 96 (7) 073103 (2010)
Shaha, KP; Pei, YT; Chen, CQ; et al. Dynamic smoothening and tribological properties of pulsed-DC sputtered DLC based nanocomposite films Surface Effects and Contact Mechanics Ix Pages: 3-11 Published: 2009
Pei, YT; Shaha, KP; Chen, CQ; et al. Growth of nanocomposite films: From dynamic roughening to dynamic smoothening. Acta Materialia 57 (17) 5156-5164 (2009)
Chen, CQ; Pei, YT; De Hosson, JTM. In-Situ TEM Investigation of Deformation Behavior of Metallic Glass Pillars. Probing Mechanics at Nanoscale Dimensions 1185, 99-104 (2009)
Chen, CQ; Pei, YT; Shaha, KP; et al. Nanoscale deformation mechanism of TiC/a-C nanocomposite thin films. Journal of Applied Physics 105 (11) 114314 (2009)
Shaha, KP; Pei, YT; Chen, CQ; et al. On the dynamic roughening transition in nanocomposite film growth. Applied Physics Letters 95 (22) 223102 (2009)
Chen, CQ; Pei, YT; De Hosson, JTM. Strength of submicrometer diameter pillars of metallic glasses investigated with in situ transmission electron microscopy. Philosophical Magazine Letters 89 (10) 633-640 (2009)
Turkin, AA; Pei, YT; Shaha, KP; et al. Surface roughness evolution of nanocomposite thin films. Journal of Applied Physics 105, 013523 (2009)
Chen, CQ; Pei, YT; Shaha, KP; et al. Cross-sectional TEM observation and nanoindentation study of multilayered nanocomposite coatings. Advances in Heterogeneous Material Mechanics 2008 1335-1339 (2008)
Pei, YT; Chen, CQ; Shaha, KP; et al. Microstructural control of TiC/a-C nanocomposite coatings with pulsed magnetron sputtering. Acta Materialia 56 (4) 696-709 (2008).
Chen, CQ; Pei, YT; Shaha, KP; et al. Nanoscale deformation in TiC/a-C multilayered nanocomposite coatings. Applied Physics Letters 92 (24) 241913 (2008)
Chen, CQ; Zhu, J. Bending strength and flexibility of ZnO nanowires. Applied Physics Letters 90 (4) 043105 (2007)
Shi, Y; Chen, CQ; Zhang, YS; et al. Determination of the natural frequency of a cantilevered ZnO nanowire resonantly excited by a sinusoidal electric field. Nanotechnology 18 (7) 075709 (2007)
De Hosson, JTM; Pei, YT. Jerky-type phenomena at nanocomposite surfaces: The breakdown of the coulomb friction law. Chen, CQ. JOM 59 (7) 45-49 (2007)
Pei, YT; Shaha, KP; Chen, CQ; et al. Microstructural evolution of TiC/a-C nanocomposite coatings with pulsed magnetron sputtering. Computer Methods and Experimental Measurements for Surface Effects and Contact Mechanics VIII Volume: 55, 65-74, (2007)
Chen, CQ; Shi, Y; Zhang, YS; et al. Size dependence of Young's modulus in ZnO nanowires. Physical Review Letters 96 (7) 075505 (2006)
Zhang, YS; Wang, LS; Liu, XH; et al. Synthesis of nano/micro zinc oxide rods and arrays by thermal evaporation approach on cylindrical shape substrate. Journal of Physical Chemistry B 109 (27) 13091-13093 (2005)
Chen, CQ; Li, SX; Zheng, H; et al. An investigation on structure, deformation and fracture of hydrides in titanium with a large range of hydrogen contents. Acta Materialia 52 (12) 3697-3706 (2004)
Chen, CQ; Li, SX; Lu, K. Dislocation interaction with hydrides in titanium containing a low hydrogen concentration. Philosophical Magazine 84 (1) 29-43 (2004)
Chen, CQ; Li, SX. Tensile and low-cycle fatigue behaviors of commercially pure titanium containing gamma hydrides. Materials Science and Engineering A-Structural Materials Properties Microstructure and Processing 387-89, 470-475 (2004)
Chen, CQ; Li, SX; Li, GY; et al. Microstructure of cyclically deformed titanium with low hydrogen concentration II. Dissolution of gamma hydrides and formation of strain induced hydrides. Acta Metallurgica Sinica 40 (3) 241-244 (2004)
Chen, CQ; Li, SX; Li, GY; et al. Microstructure of cyclically deformed titanium with low hydrogen concentration I. Crystal rotation and formation of cell structure near hydrides. Acta Metallurgica Sinica 40 (3) 235-240 (2004)
Chen, CQ; Li, SX; Lu, K. The deformation behaviors of gamma hydrides in titanium under cyclic straining. Acta Materialia 51 (4) 931-942 (2003)
Chen, CQ; Li, SX; Lu, K. The different deformation behaviors of the two types of gamma hydrides in pure titanium under cyclic straining. Acta Metallurgica Sinica 39 (2) 120-125 (2003)
Honors
"Top Reviewer Award", Materials Science and Engineering A (2012)
"Outstanding Reviewer", Acta Materialia Inc, Elsevier (2009)
Nomination to "Top 10 Breakthroughs in Chinese Fundamental Research", Ministry of Science and Technology (MOST) of China (2007)
"Highly Cited Paper in Physics", Phys. Rev. Lett by ISI Web of knowledge (2006)
"Changxu Shi Outstanding Graduate Award" (1st place), Chinese Academy of Sciences (2004)