Hysitron TI-950 TriboIndenter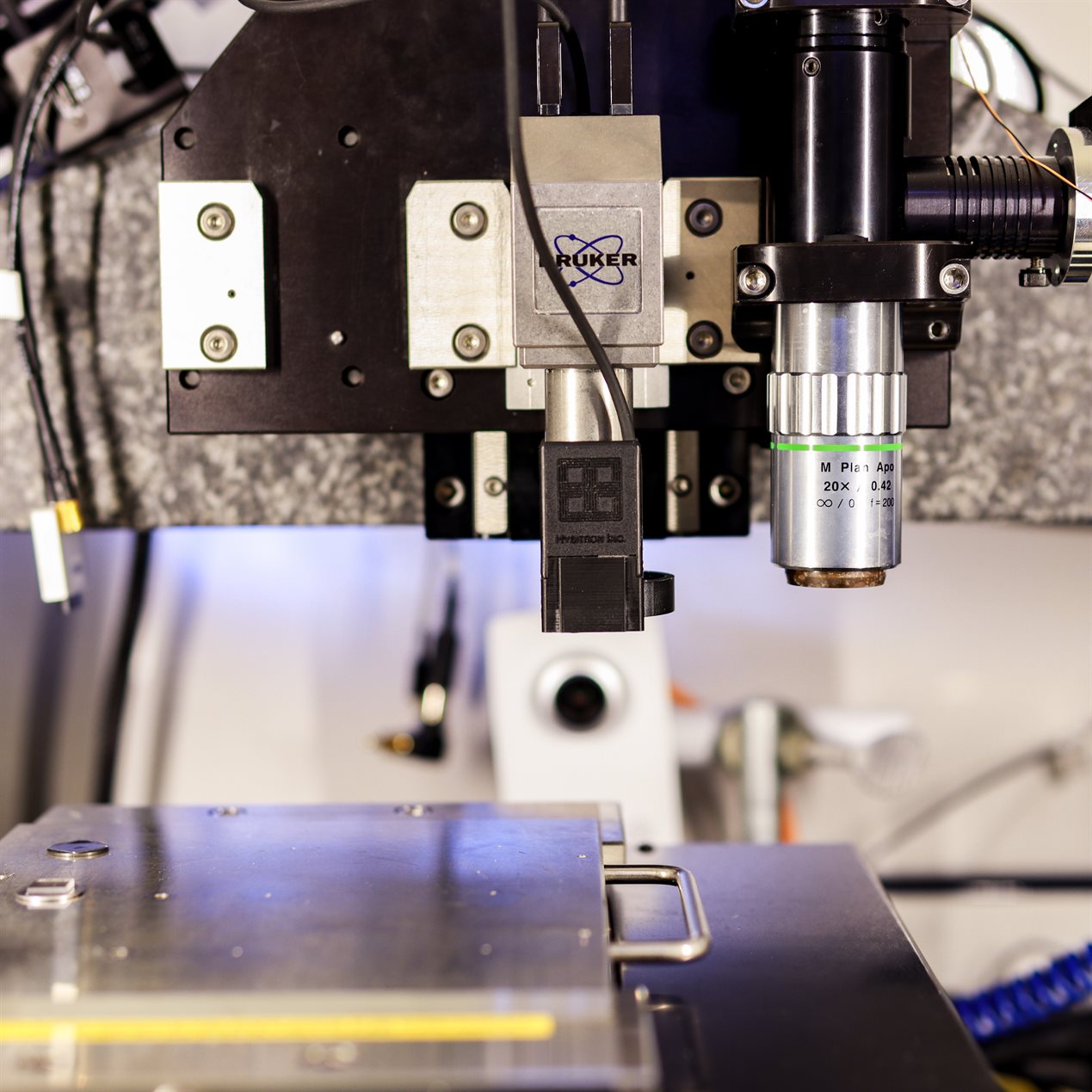 The Hysitron TI 950 is an automated and high throughput nanomechanical characterization instrument. The patented capacitive transducer technology provides superior measurement sensitivity, accuracy, and reliability during the nanoindentation process. It has a large open sample stage to work with a variety of sample types and sizes from 12 inch wafers to samples embedded in epoxy and polished. Sample mounting options include magnetic attachment, superglue (very thin layers only), clamps with screws, and a vacuum stage to hold samples that have smooth, solid bottom surfaces.
Instrument Specifications
Normal Displacement:
Vertical travel 50 mm
Indentation depth > 5 µm
Thermal drift 0.05 nm/s
Normal Load:
Lateral Load:
High Load Transducer:
Maximum lateral force 5 N
Maximum scratch length 25 mm
Maximum normal force 2.8 N
Maximum normal displacement 80 µm
Optical Microscope:
Optical objective 20X + digital zoom
Maximum field of view 772 x 588 µm
X,Y,Z translation stage:
XY x Z travel 250 mm x 50 mm
Commonly Used Advanced Modes
In-Situ SPM Imaging:
Qualitative surface analysis before and after testing
Nanoindentation:
Quantitative material properties including hardness and modulus
Nanoscratch:
Ramping/reciprocating force scratch for quantification of film delamination and friction
Scanning Wear:
Quantifying wear resistance and wear volume
XPM Features:
Acquire large quantities of statistical data fast
Collect tip-area-function within a minute
500x faster than conventional nanoindentation
High-speed quantitative mechanical property mapping
NanoDMA III:
The nanoDMA III provides a quantitative and continuous measurement of mechanical properties—including hardness, storage modulus, loss modulus, complex modulus, and tan delta—as a function of indentation depth, frequency, and time.

Training video: youtube.com/watch?v=dvGS-MvUQQk
Location

0013 Supercon

Related Research Techniques
Related Research Cores
Contact
Senior Research Scientist
Senior Research Scientist