PPG-MRL Graduate Research Assistantships Awarded to 3 Students
Yuecheng "Peter" Zhou, Hyeongyun Cha, and Mayank Garg have been awarded PPG-MRL Graduate Research Assistantships to pursue cutting-edge research broadly related to the areas of interest to PPG.
PPG and the PPG Foundation aim to bring color and brightness to PPG communities around the world. By investing in educational opportunities, the company and foundation help grow today's skilled workforce and develop tomorrow's innovators in fields related to coatings and manufacturing. This student program will bring this color and brightness to the University of Illinois community, with new thought leaders at MRL.
Yuecheng "Peter" Zhou
"As a PPG-MRL Graduate Research Assistant, I will continue to pursue my research in self-assembled film-formation synthetic polymer-peptide conjugates using a combined microrheology-optical spectroscopy approach," says Zhou. "With advances in supramolecular assembly that enabled the design and synthesis of functional materials with well-defined structures across multiple length scales, it is possible to harness the in solution processability of these molecules and incorporate them into future coating or paint formulations for customized functions such as energy capture and storage. We aim to develop advanced molecular structures and characterization approaches to open up new directions in the design and fabrication of next generation coating and paint formulations with 'programed' functionalities."
Zhou's advisor, Professor Charles M. Schroeder, a Ray and Beverly Mentzer Faculty Scholar in the Department of Chemical & Biomolecular Engineering, describes Zhou as "an impressive student" who excels in both experimental lab work and analytical modeling. "Over the last few years, he has managed to solve several outstanding problems in polymer physics and soft materials using both cutting-edge methods in single molecule experiments and computer simulations," Schroeder said. "Peter has been highly productive in the lab; he has already published 3 first-author papers in top journals based on his independent Ph.D. research, which appeared in ACS Central Science in 2017, Macromolecules in 2016, and Physical Review Fluids in 2016. In addition, he is now writing two additional manuscripts based on his work, not to mention appearing as co-author on two additional papers in ACS Applied Materials & Interfaces in 2017. This is a total of seven papers for a Ph.D. student who is just entering the 4th year in the program."
Zhou describes his interest in understanding single polymer dynamics as an additional factor to his research. "By using single molecule fluorescence microscopy combined with precise microscale flow manipulation, we aim to understand the molecular-level conformational dynamics of polymers, which is of key fundamental importance to control the properties of paint formulation. Our work will paint a molecular portrait of polymer dynamics under complex time-dependent flow and different concentration regimes, which will aid the "bottom-up" design and processing of coating and paint formulations of different concentrations under various flow conditions," Zhou said.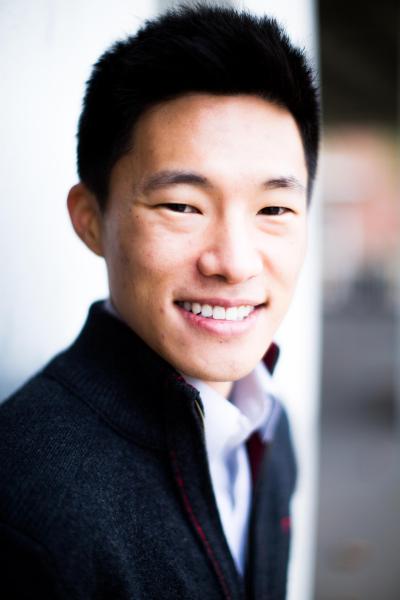 Hyeongyun Cha
"My research focuses on identifying fundamental degradation mechanisms, giving them a clear physical interpretation, showing that they are measurable, and connecting them with high heat flux technologies for high and low surface tension working fluids," Cha says. "Water vapor condensation is a ubiquitous phenomenon observed in nature and industry such as steam condensers in power generation, water desalination, and vapor condensers in heat pipes. Furthermore, condensation on hydrophobic surfaces has received much attention due to its ability to enhance heat transfer, anti-icing, self-cleaning, and energy harvesting. However, the successful widespread use of functional coatings for thermal management applications has been fraught with many challenges."
Exploring solutions to these challenges will be an integral part of Cha's research at MRL. Cha's advisor, Assistant Professor of Mechanical Science and Engineering Nenad Miljkovic, agrees, saying, "Hydrophobic polymers have wide application in heat transfer systems, however their lack of durability is an issue which prevents them from being utilized. I am extremely excited about Cha's work as part of the PPG fellowship because it has the potential to unlock the key to understanding of why these coatings degrade, and provide molecular design guidelines for future, more robust, coating development."
"The biggest challenge to successful implementation has been the lack of mechanical, chemical, and thermal robustness," Cha said. "With the proliferation of micro/nanotechnology has come the ability to characterize mechanical, thermal, electrical, and chemical properties at nanoscale resolutions and at a variety of fluid interfaces (liquid/solid, liquid/liquid, liquid/air). One of the most promising characterization platforms is scanning probe microscopy (SPM), in particular the combination of AFM with a variety of nanomechanical sensing techniques to be able to characterize local properties. During my doctoral degree, I have been utilizing novel SPM techniques to quantify the fundamental degradation mechanisms of functional coatings under a variety of degradation conditions."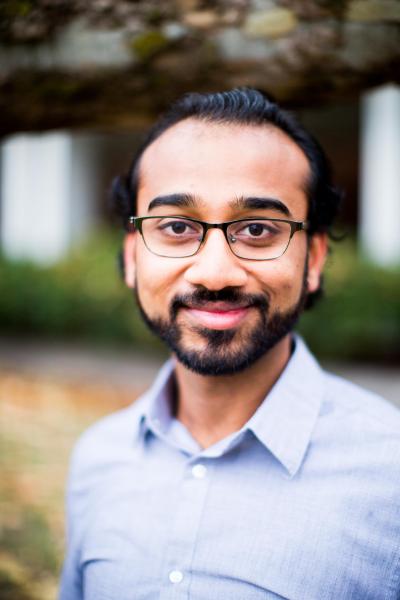 Mayank Garg
"I am a fourth year PhD student in Materials Science and Engineering working with Prof. Nancy Sottos and Professor Scott White in the area of environmentally-triggered transient polymers," Garg said. "Transient polymers are materials that degrade into small molecules, either in solution or as a bulk solid, upon exposure to single or multiple external stimuli including thermal, photo and chemical triggers. Our collaborative research group at Illinois has pioneered the processing various sacrificial templates: microcapsules, melt and electrospun fibers, 2D and 3D printed networks."
"Mayank is an outstanding graduate student entering his fourth year in the Ph.D. program," Willett Professor of Materials Science and Engineering Nancy Sottos said. "For his research, Mayank is exploring the exciting area of environmentally-triggered transient polymers. Transient materials are capable of undergoing a triggered transition from a stable, solid materials to volatile byproducts – i.e., they "disappear" under the right conditions. Mayank will be exploring new transient polymers with multiple environmental triggers, with emphasis on 3D printing of these materials to create multifunctional composites."
"My goal is to expand the range of transient polymers for use in thermoplastic and thermosetting matrices processed below 200 °C," Garg said. "One of the candidate polymers that I am exploring is cyclic poly(phthalaldehyde) (cPPA). cPPA templates including spheres, capsules, melt processed fibers, electrospun fibers and 3D printed complex architectures can be embedded inside coating materials or bulk polymer systems and triggered to degrade thermally, leaving behind an interconnected porous or hierarchical network of vessels. Triggered depolymerization of cPPA can be exploited for various novel functions in construction, aerospace, automotive and biomedical industry e.g. delivery of chemical payloads from capsules or channels, temperature control and self-healing."
The Research
"We are very thankful the PPG Foundation provided this gift to the MRL," MRL Director Paul Braun said. "Using this gift to both advance the studies of our graduate students and to help catalyze a deep and productive relationship between PPG and the MRL is very exciting… we anticipate wonderful discoveries from these exceptional students as a part of this program."
Stay in touch with MRL news to see the research coming from the PPG-MRL Graduate Research Assistants.
ABOUT MRL
The Frederick Seitz Materials Research Laboratory(MRL) originated in 1963 at the University of Illinois at Urbana-Champaign during a time of great scientific advancement. Since its inception, MRL has fostered interdisciplinary research at the forefront of materials science, bringing together world-class faculty and students in condensed matter physics, materials chemistry, and materials science in a highly collaborative research environment. Stay in touch with MRL on Facebook, Twitter, Instagram, and news.
ABOUT PPG
At PPG (NYSE:PPG), we work every day to develop and deliver the paints, coatings and materials that our customers have trusted for more than 130 years. Through dedication and creativity, we solve our customers' biggest challenges, collaborating closely to find the right path forward. With headquarters in Pittsburgh, we operate and innovate in more than 70 countries and reported net sales of $14.3 billion in 2016. We serve customers in construction, consumer products, industrial and transportation markets and aftermarkets. To learn more, visit www.ppg.com.