Shimadzu EDX-7000 Energy-Dispersive X-Ray Fluorescence Spectrometer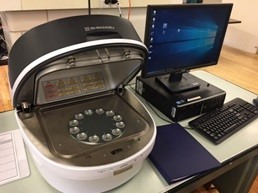 The Shimadzu features:
Fast measurements in a small, table-top foot print, automated analysis of up to 12 samples in a single run.
Radiation: non-monochromatic or filtered Rh x-ray source
Main optics: x-ray source using Rh target up to 50 kV; four choices of collimator sizes for irradiation areas of diameter 1, 3, 5 and 10 mm; five options of primary filters; 12-sample turret for multiple sample analysis; CMOS camera for sample visualization and alignment; solid state detector with energy resolution < 140 eV Mn K-alpha; fast evacuation and purge time (~ 2 min) for optional use under He environment. PCEDX-Navi and PCEDX-Pro for data processing and analysis, including calibration curve method and matrix correction.
Applications
Elemental quantification analysis for elements from Na to U.
Samples can be in powder, thin film, bulk or liquid form.
Measurements can be done in air or under He environment.
Thin film thickness determination (limited cases).
Detection limits: ppm (heavy elements) to 0.1 at% (light elements).
Location

148 MRL

Related Research Techniques
Related Research Cores