Plasma-Therm Plasma Enhanced Chemical Vapor Deposition System (PECVD)
lasma-Therm plasma enhanced chemical vapor deposition (PECVD) systems are used for depositing SiO2 or Si3N dielectric films. These films are typically used for capacitor dielectrics, chemical passivation layers, electrical insulators, reactive ion etching masks, and optical anti-reflective coatings.
PECVD 1: Plasma-Therm model 730-SLR with load lock chamber.
PECVD 2:Plasma-Therm model 790 with single process chamber.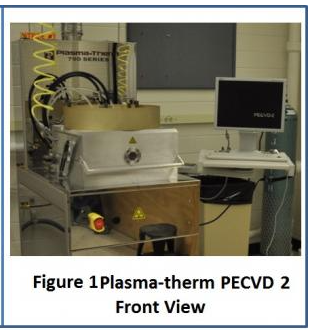 It is fully programmable with windows-based software, and use a 13.56 MHz RF source excitation to produce the plasma between two parallel aluminum plates. The gas is injected over the sample through a showerhead, and the samples are placed on the system holder which is heated to 250°C.
Si3N4 is produced from SiH4/N2 2%/98%, NH3 and N2.
SF6 plasma is used to clean the chamber between depositions.
Features:
Gases used: NH3, 2%SiH4/N2, N2 and SF6
Full computer operation
Standard recipes for a variety of film thicknesses
EMO protection
Special Notes and Restrictions: You must be qualified by staff to use this tool.
When you are done with your work, always leave the chamber under vacuum. And never leave a dirty chamber for the next user.
Report any incidents to MicroFab staff (microfabstaff@mrl.illinois.edu) immediately. In case of emergency, evacuate and call 911.
Manufacturer's website:
http://www.plasma-therm.com/pecvd.html
Location

342 MRL

Related Research Techniques
Related Research Cores