Nano-Master Reactive Ion Etch (RIE) Plasma System
Nano-master NPC 3000 is a bench-top Reactive Ion Etching (RIE) system with showerhead gas distribution and water cooled RF platen. It is designed to meet a wide range of needs including sample cleaning, photoresist stripping, surface modification, polymer etching and silicon etching.
The chamber opens from the top for wafer loading or unloading. It can accept up to 8" (200 mm) wafers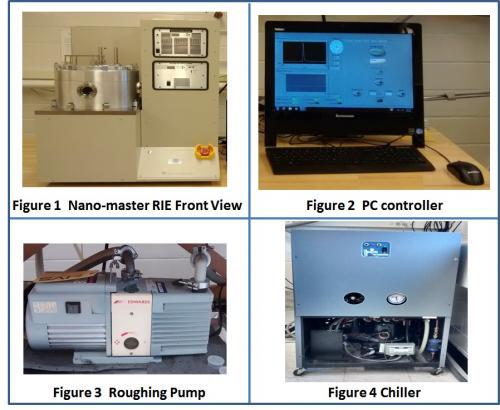 Features:
PC controlled system with auto operation mode
The RF power is provided by 400W 13.5MHz power supply, and an auto-tuner.
Four MFC gas flow channels: O2, CF4, SF6 and Ar.
The nano-master chamber is configured with 8.5-inch anodized aluminum plate to accommodate a wide range of wafer sizes.
EMO protection
Special Notes and Restrictions:
You must be qualified by staff to use this tool.
This tool is reserved for the following materials: photoresists, polymers, organic coatings and silicon.Etching of materials other than these requires prior authorization from staff.
When you are done with your work, always leave the chamber under vacuum. And never leave a dirty chamber for the next user.
The cooling water, compressed air and pump status should be green when you get to the machine. If not, notify the staff member. Do not proceed any further with the machine.
Manufacturer's website:
http://www.nanomaster.com/plasmaashing.html
Location

342 MRL

Related Research Techniques
Related Research Cores