Leica Cryo Ultramicrotome UC6/FC6
Room-temperature and cryo-sectioning of biological and industrial specimens.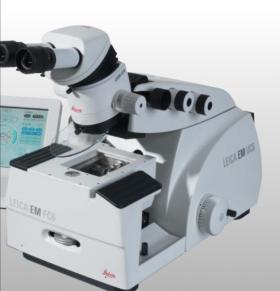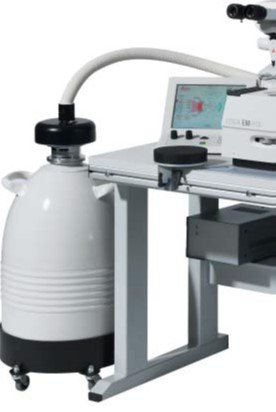 Features:
Fully motorized stage
Anti-vibration system
Easy to operate: touch screen
Diamond or glass knives
Cutting speed 0.05 – 100 mm/s
Feed: 1 nm – 15 mm
Typical sectioning:
0.35 mm for light microscopy
60 – 90 nm thickness for TEM
FC6 Cryo Chamber Features:
Contact free through the wall specimen arm for vibration free cryo-sectioning
Eucentric knife rotation for easy alignment of knife and blockface
Temperature range from - 185 to -15 °C
Automatic rapid cooling function
Specimen loading position provides easy access and maximum safety for knife and specimen
Cryo-chamber is mounted on chassis of the UC6 to prevent any external vibrations to the knife even when resting on it
Rotating knife holder takes 2 glass or diamond knives with individual knife angle settings.
For Non-Bio Soft Materials, contact Roddel Remy.
For Bio Soft Materials, contact Kristen Flatt.
Location

0011 Supercon

Related Research Techniques
Related Research Cores