Laue System with Multiwire 2D Detector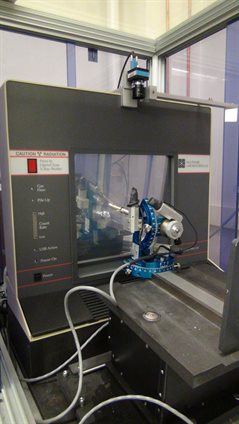 The Laue System features:
Back-scattering Laue with data acquisition using a fast 2D detector; sample stage with multi-axis rotations and full translation capabilities controlled by multi-function joystick allowing for real time sample movement/rotation with simultaneous data visualization; optical camera setup to allow for precision alignment of sub-mm crystals or exploration of the position dependence of diffraction patterns. Laue pattern processing and indexing using NorthStar Real-Time Orientation software.
Radiation: non-monochromatic W source.

Main optics: Four choices of primary collimators for x-ray beam diameters 0.5, 1, 2 and 3 mm; three-axis rotation goniometer with X,Y,Z translation orientation base; Multiwire MWL120 2D detector with CO2+Ar gas consisting of arrays of 20-microns W wires coated with Au. An optional 2mm brass collimator/elliptical mirror also exists, which allows for simultaneous viewing of both the beam position on sample in real space and the associated diffraction pattern.
Applications
Characterization of the quality of single crystal samples.
Crystallographic orientation of single crystals within 0.25 degree and determination of domains in bulk materials.
Sample alignment prior to cleaving/cutting is specific crystallographic direction.
Automated indexing of Laue patterns in single crystal materials.
Exploration of the variation of Laue patterns across the surface of large single crystals.
Location

148 MRL

Related Research Techniques
Related Research Cores
Contact
Research Assistant Professor, MRL