Kurt J. Lesker Nano36 Thermal Evaporator System
The Kurt J. Lesker Nano36 will evaporate a metal film under high vacuum while measuring the thickness in-sit by a thickness monitor. Up to three different materials can be loaded in one batch, and the evaporation sources are sufficiently isolated from each other by shields to prevent cross contamination.
Currently the system is configured for Au, Ag, Cu and Cr evaporation. Due to the limited capacity of tungsten boat and rod, the thickness limit is 200nm/boat for Au, Ag, Cu, and 40nm/rod for Cr.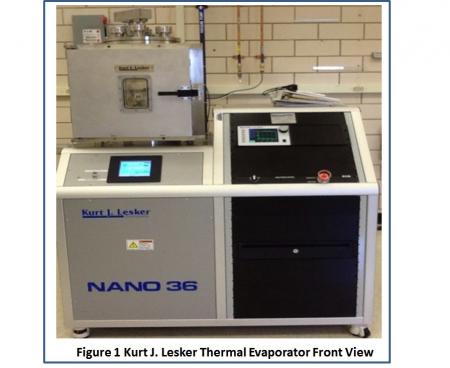 Features:
Programmable Logic controller with touch screen interface
Film thickness control FTC-2800 controller
Auto operation mode
Accommodate up to three thermal evaporation sources
Large wafer holder with diameter in 8 inch, the deposition thickness
variation is about 10% from the center to edge of the holder.
EMO protection
Special Notes and Restrictions:
You must be qualified by staff to use this tool.
This tool is reserved for the following metals: Au, Cu, Ag and Cr.
Evaporation of materials other than these requires prior authorization from MicroFab staff.
When you are done with your work, always leave the chamber under vacuum. Minimize the time the chamber is left at atmosphere.
The cooling water status and pump status should be green when you get to the machine. If not, notify MicroFab staff member. Do not proceed any further with the machine.
Location

326 MRL

Related Research Techniques
Related Research Cores