Hitachi S-4800 High Resolution SEM
The Hitachi S-4800 SEM features:
As of November 2021, the Hitachi S4800 now has powerful EDS capability with the installation of Oxford's Ultim Max 100mm2 large area silicon drift detector. It allows video rate electron and chemical imaging in real time with live tracing features to remember where you already looked and what elements were located there.
High Resolution Low Voltage imaging

1.0 nm resolution at 15 kV, WD=4mm
1.4 nm resolution at 1 kV, WD=1.5nm, Deceleration mode
2.0 nm resolution at 1 kV, WD=1.5mm, Normal mode

Beam deceleration (ultra-low landing voltages (100-500 V) for shallow surface topography)
Controlled signal mixing (combination of secondary electron and back scattered electron)
Pure BSE imaging at low voltages
Electron gun – cold field emission type
High magnification mode 100x to 800,000x
Low magnification mode 30x to 2,000x
Accelerating Voltage range 0.5 to 30 kV in 100V steps
Maximum sample size 4 inches in diameter
MRL users can be trained to operate the instrument or have staff assist in collecting the images for them as requested.
Before using the instrument, users are given access to video instruction on the fundamental theory behind the SEM technique to better understand instrument operation and data interpretation. Users are first trained on sample preparation including sputter coating if necessary. They are then instructed in safe instrument operation including sample loading, instrument alignment, and sample imaging. The best conditions for each unique sample are determined in the training session.
Below are pictures of a sample holder and types of sample mounts available for the Hitachi 4800 SEM.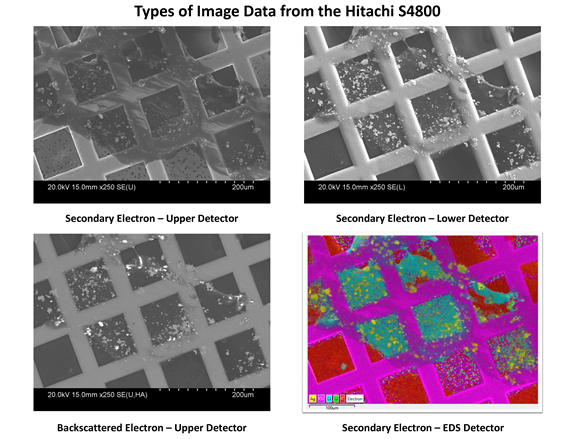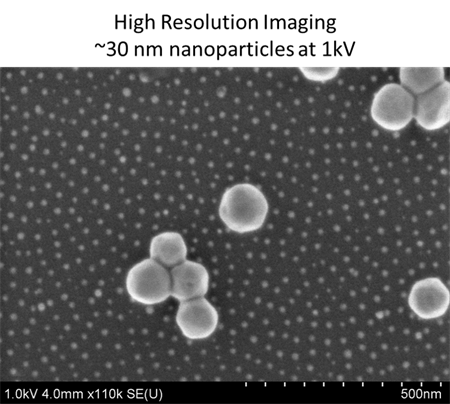 4800 Sample Mount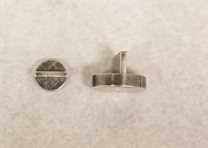 Sample Mount for Cross Section
Sample Mount with Clips
Sample Mount for 45 Degree Tilt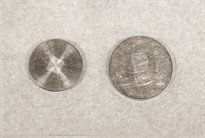 Sample Mount for Top View Imaging
Location

0013 Supercon

Related Research Techniques
Related Research Cores
Contact
Senior Research Scientist