Heidelberg MLA150 aligner for maskless photolithography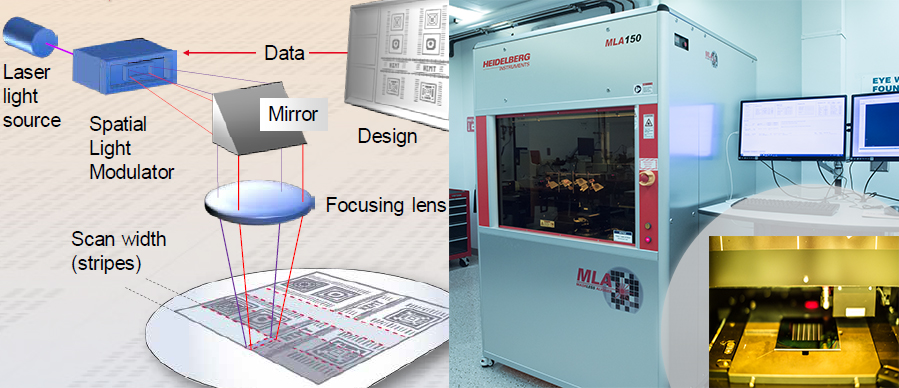 The Heidelberg MLA 150 Maskless Aligner is a high-speed direct-write photolithography tool. It does not physically contact the substrate, uses a micro-mirror array to expose the pattern only in the desired locations.
This maskless process offers flexibility and economy, providing non-contact exposure and very high speed compared to mask-based processes.
It utilizes diode lasers (375 nm or 405 nm) and a high-precision stage to directly write the pattern on a substrate from a CAD GDSII or DXF file.
Sample sizes ranging from small pieces (minimum 10x10 mm2) to 6 inch wafers are supported. The thickness of sample should be 200um-2.5mm. The height variation of sample is better not over 50 um. Please contact staff if you are not sure if your substrate fits in the tool.
Photoresists for g-line, h-line and i-line exposure can be used with the system. The resolution is limited by the resist thickness, wavelength and recipe optimization. It can produce structures down to 1 μm with thin photoresist (PR) thickness (< 1 μm). The alignment accuracy can be as good as 500 nm under optimized conditions. Writing time will depend on physical design size, exposure mode and photoresist.
Instrument delivery, installation and available to the users is completed as of November 2019. The instrument is located in our cleanroom (MRL 388) as part of the micro/nanofabrication core of instrumentation in the MRL Central Research Facilities.
Location

388 MRL

Related Research Techniques
Related Research Cores