Beckman Optima LE-80K Ultracentrifuge
The Beckman Optima Ultracentrifuge is a preparative ultracentrifuge that can be used to quickly separate particles according to their densities. Currently, we offer a SW-55 Ti "swing bucket" rotor and a Type-70 Ti "fixed angle" rotor with spin capabilities up to 49,000 rpm and 63,000 rpm, respectively. Ultracentrifuge tubes are available for purchase at the MRL or can be purchased by your lab (please see staff for list of approved centrifuge tubes and attachments).
Featuring a high tolerance of rotor imbalance, this Beckman centrifuge uses a frequency-controlled, air-cooled, direct-drive induction motor that is operated through a keypad control panel. This ultracentrifuge also offers a digital display which shows several instrument parameters including rotor speed, run time, rotor temperature, w2t value, and selected program number. The display has a dual purpose, indicating both actual values/conditions and set values. Other features of the Beckman Optima™ LE-80 K centrifuge include automatic standby mode, overspeed and purge system, LED run indicators, and diagnostic messages. Its design includes a high strength structural steel chamber door with a solenoid interlock which prevents it from opening during operation.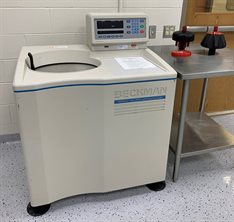 Location

SuperCon 0014

Related Research Techniques
Related Research Cores