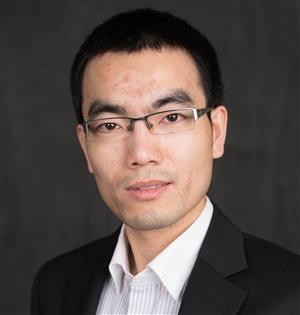 Assistant Professor, Materials Science and Eng.
(217) 300-8443
256 Seitz Materials Research Lab
For More Information
Education
BS in Physics (Summa Cum Laude), Nankai University (2010)
PhD in Applied Science and Technology, University of California, Berkeley (2015)
Biography
Dr. Zhang is an assistant professor in the Department of Materials Science and Engineering at the University of Illinois at Urbana-Champaign. He holds a Ph.D. in Applied Science and Technology from the University of California, Berkeley (2015). He received the Dorothy M. and Earl S. Hoffman Scholarship from the American Vacuum Society in 2014, the Graduate Student Award from the Materials Research Society in 2015, the Chinese Government Award for Outstanding Self-Financed Students Abroad in 2015, the Beckman Postdoctoral Fellowship at UIUC during 2015-2018, the ACS PRF Doctoral New Investigator Award in 2019, and the Beckman Young Investigator Award from the Arnold & Mabel Beckman Foundation in 2021.
Academic Positions
Assistant Professor, Materials Science and Engineering, UIUC, 2019 - now
Faculty Affiliate, Materials Research Laboratory, UIUC, 2019 - now
Part-time Faculty, Beckman Institute, UIUC, 2023 - now
Research Statement
The Zhang group study complex interfaces and molecular systems, with the goal of: 1) understanding the fundamental atomic and molecular scale processes at solid-liquid interfaces, such as dynamic solvation, electrochemical energy conversion, and catalysis; deciphering the structure, distribution, and function of various small molecules in electrochemical and biological systems; and 3) bringing solutions to the society, in areas of renewable energy and healthcare.
Our research is highly interdisciplinary, spanning over areas of materials/physical chemistry, condensed matter physics, chemical engineering, and mechanical/electrical engineering. We are always looking for motivated graduate students, postdocs, and undergrads to join us.
Research Interests
Molecular Imaging and Spectroscopy
Energy
Nanomaterials
Surfaces and Interfaces
Electrochemistry and catalysis
Selected Articles in Journals
Patents
Yingjie Zhang, Fujia Zhao, "Coated electrode, electrochemical sensor and method for detection of hydrogen peroxide," provisional patent approved, Application Serial No.: 63/278,313; non-provisional patent filed (Nov. 8, 2022), U.S. Patent Application No.: 17/983,052.
Honors
Beckman Young Investigator Award, Arnold and Mabel Beckman Foundation (2021)
ACS PRF Doctoral New Investigator Award (2019)
Beckman Postdoctoral Fellow, University of Illinois at Urbana-Champaign (2015-2018)
Chinese Government Award for Outstanding Self-Financed Students Abroad (2015)
Graduate Student Award, Materials Research Society (2015)
Dorothy M. and Earl S. Hoffman Scholarship, American Vacuum Society (2014)
Best Poster Award, MRS Spring Meeting & Exhibit (2014)
Anselmo Macchi Fellowship, University of California, Berkeley (2014)
Recent Courses Taught
ECE 487 - Intro Quantum Electr for EEs
MSE 461 - Electronic Materials II
MSE 466 - Electrochem Energy Conversion
MSE 582 - Surface Physics
MSE 595 - Materials Colloquium