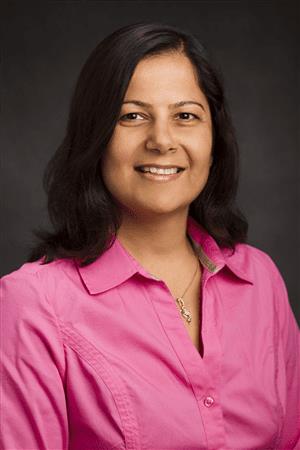 Research Program Manager, IQUIST
(217) 244-6042
268 Engineering Sciences Building
Education
Bachelor's, Textile Engineering, Indian Institute of Technology, 1993
Master's, Polymer Chemistry, Tokyo Institute of Technology, 1996
Ph.D., Chemistry, University of Southern California, Los Angeles, 2007
Biography
Bhavna Hirani is the Research Development and Partnership Manager for the Illinois Applied Research Institute (ARI), Grainger College of Engineering at the University of Illinois, Urbana-Champaign. She is the steward of relationships for ARI.
Dr. Hirani is primarily responsible for the following:
1. Designing strategic and catalytic activities to facilitate researchers in attracting applied research funding
2. Creating relationships at the University and with external stakeholders, including government labs and industry
3. Developing and implementing strategies that increase the institution's visibility and competitiveness
Dr. Hirani works with the ARI leadership team to coordinate strategic initiatives and create new programmatic opportunities that help advance applied research.
Dr. Hirani has a Ph.D. in analytical and inorganic Chemistry from the University of Southern California, Los Angeles. She has a Master's in Polymer Chemistry from the Tokyo Institute of Technology, Japan and an undergraduate degree in Textile Engineering from the Indian Institute of Technology, Delhi, India.
Dr. Hirani worked in the Office of Public Engagement at the University of Illinois from 2013-16. She gained experience in facilitating partnerships that make use of knowledge and resources at the University to address the needs of society. Dr. Hirani coordinated several engagement programs for the Office and enhanced the culture of community engagement on campus. She developed new initiatives to build institution-wide engagement across disciplines on campus. Previously, Dr. Hirani worked as the Outreach and Engagement Coordinator at ARI for about 3 years.
Selected Articles in Journals
B. Hirani, J. Li, P. Djurovich, M. Yousufuddin, J. Oxgaard, P. Persson, S.R. Wilson, R. Bau, W.A. Goddard III, Mark E. Thompson, "Cyclometalated Iridium and Platinum complexes with Noninnocent Ligands", Inorganic Chemistry 2007, 46 (10), 3865.
S.H. Zeronian, M.K. Inglesby, N. Pan, D. Lin, G. Sun, B. Soni, K.W. Alger, J.D. Gibbon, "The fine structure of bicomponent polyester fibers", Journal of Applied Polymer Science 1999, 71, 1163-73.
B. Hirani, J. Watanabe, "Liquid crystallinity of newly synthesized glucose derivatives with mesogenic side chains", Liquid Crystals 1997, 23(1), 59-67.
B. Hirani, Y. Nakata, J. Watanabe, "Thermotropic liquid crystalline glucose derivatives with mesogenic side chains", Molecular Crystals and Liquid Crystals Section A 1996, 288, 223-236.
Articles in Conference Proceedings
B. Hirani, "An institution-wide initiative to build community engagement'', Engagement Scholarship Consortium meeting at Penn State, September, 2015.
J.A. Kornfield, B. Hirani, M. Kempe, C. Ober, Y.U. Kim, Y.C. Chao, "Synthesis and dynamics of side-group liquid crystalline polymers", Polymer Preprints (American Chemical Society, Division of Polymer Chemistry) 1998, 39(2), 1020-21.
B. Hirani, Y. Nakata, J. Watanabe, "Effect of the length of mesogenic side chain on the thermotropic liquid crystalline properties of D-(+)-glucose derivatives", 36th IUPAC International Symposium on Macromolecules 1996, Seoul, Korea.
B. Soni, V. Gupta, P. Bajaj, "Development of high water retentive acrylic fibers", Book of papers – International Conference and Exhibition. American Association of Textile Chemists and Colorists (AATCC) 1994, 24-33.
Professional Societies
Training and Education committee, Member, Research Development Council (RDC), University of Illinois, 2019
Illinois Research Development Council (RDC)
National Organization of Research Development Professionals (NORDP)
American Chemical Society (ACS)
Other Outside Service
Board member, Academy High school, Champaign, 2020-present
Accreditation committee, Member, Academy High school, Champaign, 2019
Internship committee, Chair, Academy High school, Champaign, 2019
Research Honors
Final year dissertation fellowship from the College of Letters, Arts and Sciences, University of Southern California (USC), Los Angeles, CA (2005-06)
Student Prize for undergraduate research paper contest in the International conference of American Association of Textile Chemists and Colorists (AATCC) (1994)
Other Honors
Monbusho scholarship for Master's program from the Ministry of Education, Japan (1994-96)
Improvement Activities
Project Management Key Concepts training, University of Illinois, 2018
Grantsmanship for Research Professionals course, Northwestern University, 2018